What are SIP trunks?
SIP trunks (or VoIP trunks) enable users to utilise a single internet connection for making and receiving multiple concurrent telephone calls. SIP trunking provides you with added flexibility, improves business continuity and offers substantial cost-savings over traditional telephony services.
By utilising SIP trunks within a converged voice and data network, you can dynamically allocate bandwidth to other needs such as email and web traffic as and when you need it.
How it works
SIP (Session Initiation Protocol) is a signalling communications protocol used to create, manage and terminate multimedia communication sessions in an IP-based network. A session could be a simple two-way telephone call, or it could be a collaborative multi-media conference session. Once the session is set up, further protocols/software (e.g. codecs) are required to convert the audio stream over SIP.

SIP trunking provides virtual telephone lines over a high speed IP network, connecting to an IP PBX. In Telappliant's case, this is a VoIPOffice (i.e. a hosted PBX). Thus, all the customer needs is a fast internet connection, and this in turn, dictates the number of concurrent calls to be made.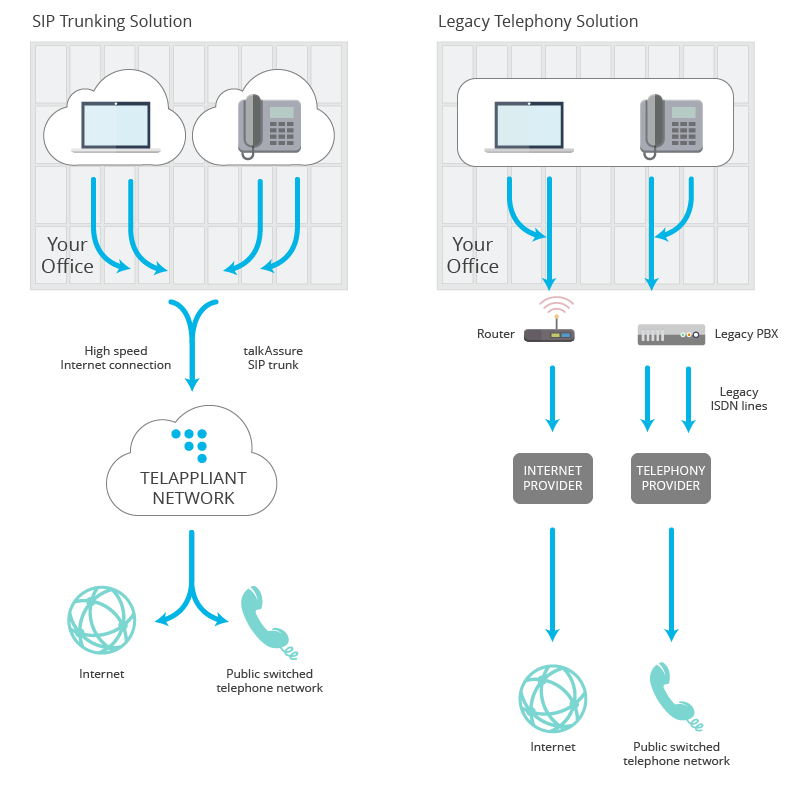 SIP Trunks Interoperability
Our SIP trunks have been tested and work with the following systems:
Cisco CUBE (Cisco Unified Border Element)
Cisco CCM (Cisco Call Manager)
Mitel 3300
Avaya IP Office
Panasonic KX
3CX
Asterisk
Sangoma Vega Gateways
Patton Gateways
Vegastream Gateways
Trixbox
Grandstream
Digium
Gigaset